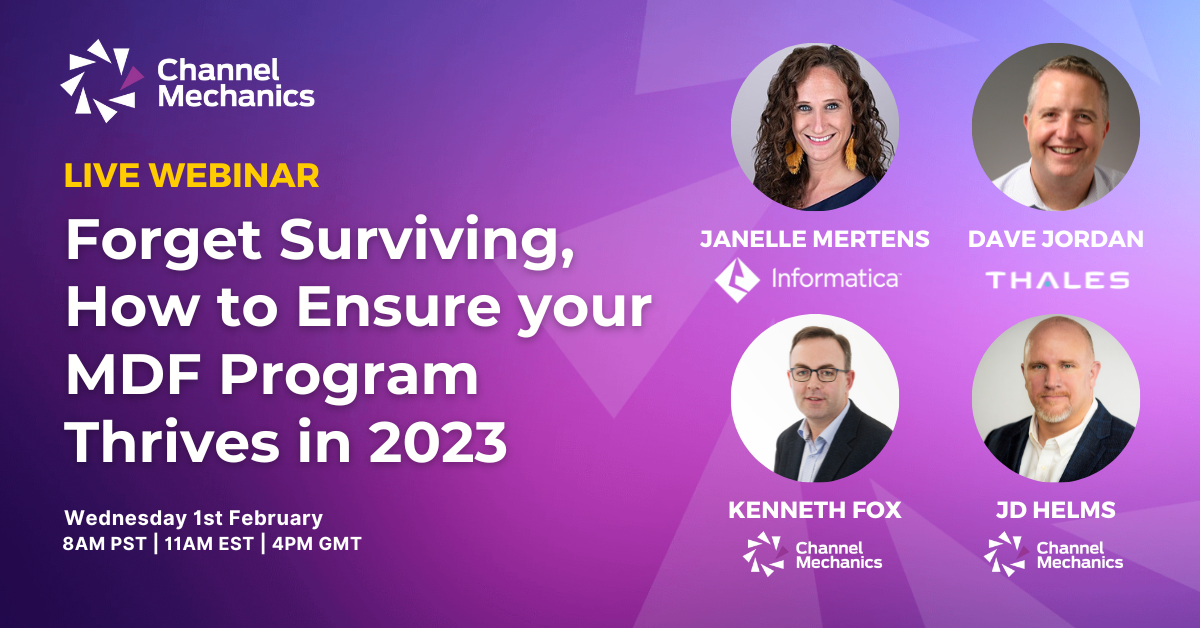 A lot has changed in the channel in the past 12 months! And while every marketing dollar spent is inevitably examined, channel marketers are now seeing an increased scrutiny around MDF programs. The question on the lips of every CFO & CRO is "What is our MDF ROI and are we as efficient as possible?" So how do you ensure your MDF program not only survives, but thrives in 2023? And how do you ensure it continues to deliver the outcomes your channel needs, while navigating a changing partner ecosystem?
A key trend in 2022 was for Channel Marketers to do more with less, an area where channel automation came to the fore. By removing manual processes, marketers could more easily deliver MDF programs. But what trends are channel marketers seeing around MDF and how are they adjusting programs for 2023?
These are just some of the questions our panel of industry leaders will be tackling on our upcoming webinar "Forget Surviving, How to Ensure your MDF Program Thrives in 2023". JD Helms will be joined by Janelle Mertens, Global Director, Channel Operations at Informatica, Dave Jordan, Global Partner Programs and Strategy at Thales and Channel Mechanics CEO, Kenneth Fox.
The good news is that the fundamentals don't change, and a well-executed MDF program will always be crucial to supporting business development within the Partner Ecosystem. However, now more than ever, Channel and Partner leaders need to justify and show ROI. Having easy access to program analytics enables data driven decision making and provides the ability to validate or adjust strategies, as determined by the market. Doing more with less, or at least doing more with the same, will be a basic requirement for the year ahead. So make sure you are set up for success by joining us on February 1st for "Forget Surviving, How to Ensure your MDF Program Thrives in 2023".
Webinar Topics:
Sustaining your MDF Budget in 2023

Aligning your MDF Program with Company Strategy

Ensuring Ease of Doing Business - MDF Automation….from requests to payments

Measuring & Reporting MDF ROI

Key Takeaways

Audience Q&A




Panel Speakers | Forget Surviving, How to Ensure your MDF Program Thrives in 2023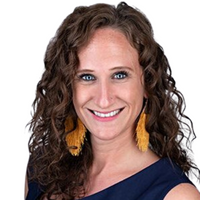 Janelle Mertens: Global Director, Channel Operations at Informatica
Janelle Mertens is the Director of Global Channel Operations at Informatica as the newly appointed leader, joining in August. Previously she was the Senior Director of Sales Operations for 3 years at Informa. For 5 years before that she helped build the partner program and systems from scratch at Genesys. Informatica is focused on growing their partnership footprint by incentivizing through rebates and MDF programs. Informatica has a robust program including partner types of Large hyper scaler technology partners, global partners, ISV, resellers, referral partners, and OEMs.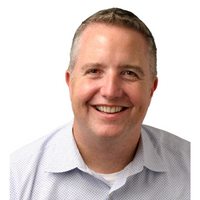 Dave Jordan: Global Partner Programs and Strategy at Thales
David Jordan is Senior Director, Global Partner Program and Strategy, Thales Cloud Protection and Licensing Solutions, the worldwide leader in data protection, providing everything an organization needs to protect and manage its data, identities and intellectual property. Dave brings over 25 years of experience and proven success in the channel, global marketing, product management and development spanning cloud, security, entertainment & media, communications, and CRM industries.
Kenneth Fox: CEO at Channel Mechanics
CEO of Channel Mechanics, a globally recognized leader of channel program automation software. Some of the world's largest vendors are now utilizing Channel Mechanics to automate the delivery of their partner programs. With a career spanning over 20 years in the ICT sector, Kenneth is certainly an industry leader with extensive channel, technology and sales experience. Kenneth has previously held senior leadership positions at Nortel, Avaya, APC and IBM. He is recognized as a leader in implementing large scale channel, technology and business transformation projects.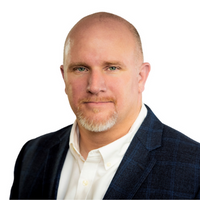 JD Helms: VP & General Manager Americas at Channel Mechanics
JD Helms is an accomplished and resourceful leader with significant experience in the Technology and Software-as-a-Service industries. He has built channel focused start-ups and taken them to successful exit. JD has established and led successful partnerships with companies of all sizes from global fortune 500 enterprises to small and emerging businesses.
Stay Connected
Follow Channel Mechanics on LinkedIn and Twitter to stay up to date on all things channel.

Schedule a demo
Discover how our channel enablement platform can transform your channel strategy. Schedule a demo today.
Schedule a Demo